In this article:
What's a micro survey?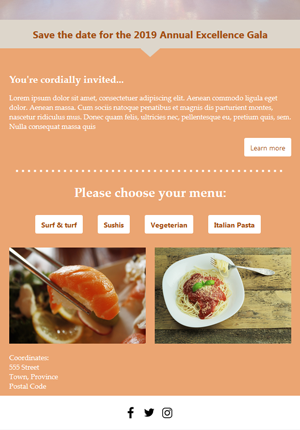 Micro surveys are simple one question surveys with multiple answer choices you can use to learn more about your contacts and their interests. For example, you could use micro surveys to:
Learn which of your products your clients prefer;
Invite your contacts to an event and get confirmation of their attendance;
Ask your contacts how often they prefer to receive your emails...
Combine our micro surveys with a marketing automation scenario for even more results!
For example, depending on their interests, you could segment your contacts by adding them to the appropriate group. You could even automate a reminder for your event to contacts who confirmed their attendance. How about an automated follow-up for people who did not answer your survey? In exchange for their participation, send them a discount by email.Possibilities are almost endless! To learn more, click here.
How do micro surveys work?
Click here to learn about how micro surveys work and how to create one.
How can I have access to micro surveys?
You get a free 30-day trial when opening your account. Once that trial ends, you will need a "Plus" or "Pro" plan to continue using the micro surveys. To learn how to change your plan, click here.
Video tutorials

How to create a micro survey and add it to your mailing ?
How to send automated mailings following a micro survey ?