In this article:
Creating a mailing

In the "Mailings" section, click the ''New mailing'' button.



Or use the shortcut in the left-hand navigation:



Select a template you have already customized from the list.



Choose if you want to customize your template or not. If you choose no, continue to step 7.



Test your mailing! Use the test mailing option to make sure that it works properly. Try your mailing in different platforms (Hotmail, Gmail, Outlook, etc.).

Click "Continue" for the next step, or "Save draft" to continue later.

In the Your mailing section, edit the subject of your mailing if need be. The subject (or title) of the email is very important because it's one of the first things your recipients will see in their inbox when they will receive your email. It will help them decide if they open it or not.

Then, enter a preview text for your mailing. The preview text is a short summary of the content of your mailing. It will be displayed after or beside the sender name and your email subject in your recipients' inbox. To learn more about the preview text and the best practices to write a good one, click here.

Finally, choose the preferred language. Your mailings' footer will be displayed in that same language.



Under the To whom section, select the target group or groups to whom you would like to send your message.


Note: Since our system automatically deletes duplicates, when a contact belongs to more than one of your target groups, he will only receive your email once.

Next, enter the date and time of your mailing. You can pre-program your mailings. This option is very useful, especially if you plan on taking a vacation or like to prepare your communications in advance.



Check and modify, if necessary, your coordinates (from, sender address, return address).



Add, if necessary, the "Google Analytics" and "Send to a friend" options.


Google Analytics: Use this option to automatically create a campaign in the target sites of your clickable links. Enter a campaign name without accents, special characters or spaces, and you are ready to go. To avoid problems with your links, make sure that the sites linked to your mailing allow Google analytics.


Send to a friend: By checking this option, this will add a link in the footer of your email so that contacts can transfer your email to a friend. Every email sent using this method will be accounted for in your mailing statistics.

When you are done, click on "Next".

A summary window of your mailing will be displayed. If you are ready, click on "Send". To make corrections, click on "Cancel".

After clicking on "Send", this future mailing will appear on your dashboard.


You're done! Your mailing has been planned! You can now start to track your statistics.



Email footer and unsubscribe link
When your mailing is ready to start, the system begins to build your emails (one email per recipient). A footer containing your contact information, an unsubscribe link, a link to contact us and report an abuse and a link to our anti-spam policy is automatically added to the bottom of each email during this process.
Except your coordinates and our logo, the footer can't be modified. This information (address and unsubscribe link) at the bottom of your email is necessary to ensure that your mailings comply with the Canadian Anti-Spam Law (Bill C-28).
To find out how to update your contact information in the footer, click here.
To learn more about how the unsubscribe link in the email footer works, click here.
Click here to learn how to remove our logo from the footer of your emails.

Saving a mailing (draft)
At the bottom of the editing page, click on "Save a draft". Your email will be added to the draft list and will remain available until you decide to send it. When you are ready to continue to edit your draft, go to the "Mailings" menu and select "Drafts". Then, click on the "Edit" optoin of the actions menu located at the right-end of the draft's row.

Mailing delivery time
This depends on the number of emails that have to be sent. During this final step of your mailing, you will see the estimated time of delivery.
Mailing list update
The list of recipients is updated at the moment of delivery. If contacts unsubscribe between the moment of drafting and delivery, they will not receive the email. If contacts subscribe during this same period, they will receive the email even if they were not in the target groups when you planned your mailing.
Viewing all the scheduled mailings
Only the next scheduled mailing is visible from your "Dashboard". To see all the scheduled mailings, go to the "Mailings" section and select "Scheduled mailings".
By using the actions menu at the right of each scheduled mailing, you can:
Modify the time and date of the mailing
Duplicate the mailing
Cancel the mailing

Re-sending a previous mailing
In the section "Mailings" > "Previous mailings", you can view the list of all previously sent mailings. From this list, click on the " Reactivate mailing" option from the actions menu at the right of the mailing's row. You will enter editing mode and be able to modify it, save it as a draft and re-send it.

Google Analytics and problems with hyperlinks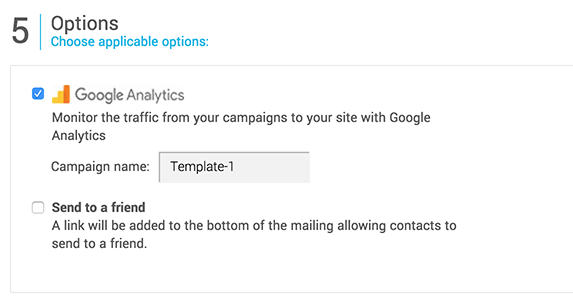 If you have checked the Google Analytics option and notice the following after the mailing:
Your statistics do not show for a particular link
One or more than one link is redirected to the wrong page or seems to be broken
This means your email contains links to external sites that may not support Google Analytics. To resolve the situation, uncheck the Google Analytics option before your mailing.